Sorry for my blogging absence, folks. I've been sidetracked by our hopefully-soon-move to Chicago. No offers on the house yet, even though we've had lots of lookers in the past few days. Everyone seems to like the house, but no bites yet. I'll be up in Chicago looking for an apartment next week, so I've been spending most of my free time scouring Craigslist for apartments in our price range. We have an application in on another great one that my parents visited this past Monday. It would be absolutely wonderful if the accepted us! I've also been searching for a new home for one of the dogs, as we can't have all three in an apartment. I have several possibilities there as well, so things are looking better, even though I'm still anxious for something to happen (hopefully that something would be the selling of our house).
This past week I discovered a new food love: making butter. This all started as a joke, with one of my friend's stating that he just churned the butter he brought to our small group meeting. Then everyone commented, "That sounds like something Kristen would do." Oh yes, friends, I am the hippie of the bunch. Well, when I saw a butter making kit on Leeners (man, do I love Leeners), I knew I had to have it. Now, as much as I love Leeners, the butter making kit was a bit of a disappointment because basically all you need to make butter is a jar. Here's how to do it:
Fill said jar about 1/2 to 3/4 full of heavy whipping cream, and then shake. That's it. Shake. And shake some more. It works best if the cream is room temperature first, and you don't have shake fast. After about 20-30 minutes the cream will start to thicken and turn into whipped cream (go figure). The jar will feel really light at that point but a few more shakes and you will feel the cream thicken even further. After about a minute, the butter will separate itself from the rest of the cream. The liquid is now "buttermilk" and the solid is "butter." Dump out the buttermilk into a separate container (save this and make buttermilk pancakes…YUM!) and then add some ice water to the butter and shake for another minute.
Fill a bowl with ice water and put the butter in the water. Use a spatula or small spoon to push down the butter. This part is necessary to remove the buttermilk from the butter. Leftover buttermilk will make the butter go rancid very quickly. Dump the ice water when it gets cloudly and add more ice water. Repeat until the water remains clear.
Now you can store your butter in a butter keeper. This container allows you to keep butter (go figure) without refrigeration. You fill the top portion with butter and the bottom portion with ice water. Then you tip the top over into the bottom. Some of the water will be displaced, but this is what creates a water-tight seal between the two parts of the container. Now your butter will stay soft and fresh for 30 days.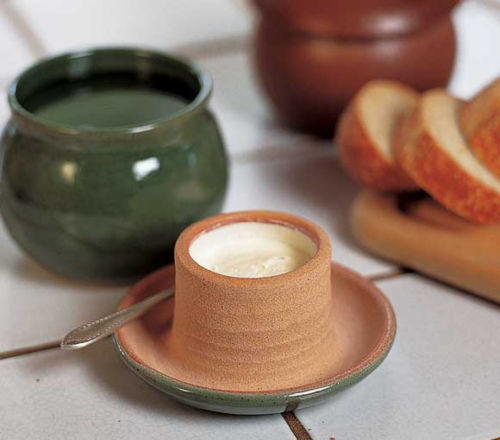 This Saturday I found a handmade butter keeper at our local farmer's market. It is beautiful (sorry for no picture – I am lazy). I almost kissed the potter for making it! Yeah, I get a little excited about food-related items.